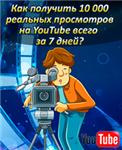 Why this package is so popular?

Tools YouTube ranks third in the world in attendance. And achieve a large number of views of your video not only want ordinary users, but business owners on the Internet.


Why do you need this kit?

You can buy is the best guide to their topic and sell legally. Along with the kit, you get a license to any use.


What is the return on the purchase reseller kit?

You just need to sell one time that the costs paid off.


Free help - yes.


No feedback yet