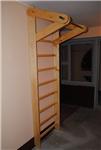 The proposed file contains dimensional drawings of all component parts of the sports area and the instructions for the manufacture and assembly. Made sports corner of the floor boards and wooden bars 40x40mm with a hand tool. Using this file, you can make your own hands an exact copy of the proposed model, or to order the production thereof to any carpenter's workshop in the region of your residence.

The file .pdf 3546 kb, 17 pp. 10 drawings, 32 photographs.
Anyone who has their own website, forum, blog or page on the social. network, offer affiliate programs. You talk on the pages of this product and place your affiliate link to purchase the file with the drawings. Half of the sum of all sales, perfect for your affiliate link will be automatically credited to you. Address your affiliate links, see. At the top of the graph
http://platit.info/buy/1652730
PARTNERS: Link HOW TO EARN.
No feedback yet