Content: New_Navitel_Gis_9.9.175.zip (131.33 MB)
Uploaded: 16.09.2017

Positive responses: 39
Negative responses: 2

Sold: 1574
Refunds: 3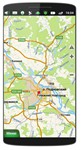 Skin "New Navitel" Navitel Navigator 9.9.175 for OS-based Android, Full version. For screens with a resolution of 480x320 to 2560.
1. This design is distributed by subscription for 1 year.
2. In within 365 days of purchase, provided support to the current version Navitel. On the subsequent purchase will receive a discount of 60%.
21.12.2017 17:11:47
Очень хороший товар!
16.12.2017 17:12:30
Отличный скин, можно максимально подстроить скин под себя. Автору данного скина благодарность!
22.11.2017 9:44:43
Качественный скин и дополнения к нему. Продавец очень общительный и помогает по всем вопросам. Рекомендую данный товар к покупке!
21.09.2017 18:19:34
Этот скин классный! Рекамендую!
20.09.2017 22:30:38
Всё хорошо.Скачалось быстро.