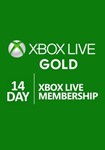 !!! ATTENTION !!!
The code is valid until 06/30/2019 !!!!!!!
The codes are valid on xbox one.
Codes for NEW ACCOUNTS.
Codes are only valid for accounts such as SILVER. If your account status or GOLD GAMEPLAY, then the code will not be activated PRKA paid period is over or GAMEPLAY GOLD status, and only then the code can be activated! THIS LIVE GAMEPLAY STATUS (TRIAL 14 days Gold). You can play online with other players.
Method of activation of the card through the website:
1) Go to the site
http://www.xbox.com/en-US
2) In the top right corner of the Sign In \ Sign
3) Enter your details and go.
4) Go to Manage Profile. \ Manage Your Profile
5) Go to the Redeem Prepaid Card
6) Introduce Prepaid Code.
22.06.2019 19:12:18
пришел код который я уже покупал 2 недели назад

22.06.2019 16:27:12
Спасибо
22.06.2019 8:58:54
Рекомендую , лучшая цена
18.06.2019 8:56:04
спасибо, всё получилось. онлайн играется.