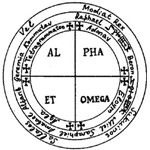 Instructions for preparing the venue for the ritual. How to prepare for the intersection, a circle or a living room.
An excerpt from the full course "Fundamentals of Necromancy" the second version.

The material is provided for informational purposes only. The authors are not liable for the consequences of any attempt to play these materials in practice.
Table of Contents:
- Introduction
- Crossroads
- Circle
- Residence
- Prepare the place to go.
The total amount of material - 3 pages.
No feedback yet