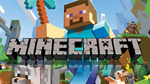 Minecraft key: Windows 10 Edition for Microsoft Store
Activate the key here:
http://account.microsoft.com/billing/redeem
DESCRIPTION:
Build a variety of structures: from havens in haste to grandiose castles!
Create and explore your own world, limited only by the limits of your imagination, but do not forget before the night comes to build a shelter to protect against monsters.
Find materials and make tools, supplies, food and weapons that will help you survive.
ATTENTION! Worlds / save files from the Minecraft version for Java PC / Mac are incompatible with the Minecraft version for Windows 10!
Dear buyers, read carefully, and if something does not suit you, please refrain from buying.
- Kindly request to do VIDEO EVIDENCE (the video must contain a record from the moment of payment of the goods and until the key is entered).
- You must register the key immediately after purchase
- The key is only for personal use, any fraud and resale are STRICTLY PROHIBITED.
- The seller answers within 24 hours (usually instantly, please wait for an answer.)