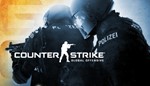 By buying this product you will instantly get a license account Steam Counter-strike:Global Offensive

(Region Free)

Account type Username: Password

After the purchase, follow these steps:
● Change the contact e-mail address
● Change the password on your account
● Change the secret question and answer
• Enable Steam Guard.

Agreement:
• The buyer must check the availability of the goods immediately after purchase.
• The buyer must in case there are any complaints against the quality of goods report this seller no later than 20 minutes after purchase.
• Attempts of fraud will be recorded and reported to the administration. All data we check before selling.
• The warranty on the account is valid 30 days from the date of purchase.
• In the event of force majeure to the account (the buyer has bought a work item and want to return the item back, and the means for it, stealing, restrictions on the purchase / exchange, etc..) To us, you do not have any complaints.
• All problems are considered only in cases of non-compliance of the product description or incorrect data from your account.
08.10.2018 16:39:52
++++++
26.09.2018 12:38:13
все гуд, мож покупать
11.09.2018 22:32:54
Very happy with this purchase, came with 50+ games and a 13 year old account, very happy. Will buy more!