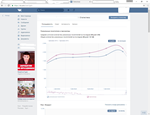 For $ 0.9 you can get 2000 unique visitors in their group VKontakte.
With this service, your group VKontakte gradually be able to enter the top 10 in the search.
This is the easiest and most affordable way to promotion.
Immediately after payment you will receive a form to fill in the registration data, which will need to fill in the following fields:
- The address of the group VKontakte;
- Email, or other contact information;
These data will be transferred to the seller to complete the transaction of purchase and sale of goods.
16.07.2018 22:56:31
Продавец без нареканий. Все четко и оперативно.
10.06.2018 7:25:50
2 раз заказываю, очень все хорошо! Советую!
18.04.2018 14:00:05
Каждый раз все хорошо.
12.04.2018 8:28:26
Нормально