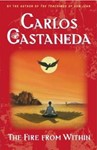 Audiobook the Fire from within Carlos Castaneda the Seventh book in which the author describes a complete revolution in the perception of the teachings of don Juan. Castaneda says, shifting his assemblage point in the same state of heightened awareness in which took place his training. He acquires his integrity. In the audiobook "the Fire within" once again we meet with don Juan and get acquainted with stunning concept of the "petty tyrants" – the ability to consider any negative situation as a learning tool and get rid of self-importance. Be careful, reader. Just understanding this concept will completely change Your perception of the world and Your life – of course, for the better.
In the seventh book Castaneda continues his practice under the guidance of Florinda Matus.

A significant part of the training dedicated to the treatment to person to the nagual Julian, the teacher of don Juan. He was initially an actor and led a rather dissolute life when he fell ill with tuberculosis. A turning point for Julian was the meeting with the nagual Elias, who, though not cured him, but allowed most "away from the edge of the abyss, which means the end of life." Thus Julian was the nagual with TB who lived to 107 years.

Person Julian symbolized for Castaneda as a student, that the life of a warrior can be continuous, every second a struggle with his old habits, lifestyle and self-pity to keep the balance walking on the edge of the abyss. One wrong step would mean that you know.

The book introduces the concept of "petty tyrants", I mean unbearable people having real power over us and have substantial power. Nothing tempers the spirit of a warrior as the need to deal with "petty tyrants" and only in such circumstances the warrior takes on the poise and clarity, without which he would be able to survive at a meeting with "unknowable".

To read all the Castaneda fans and all, tempers the spirit and desperate.
No feedback yet