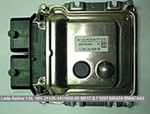 A set of tuning firmware for LADA KALINA cars with VAZ-21126 engine (98 hp) 1.6L 16V
Engine-mounted control units ME17.9.7 21126-1411020-50
To install instead of the firmware B564CA02
   
      
In the kit Lada Kalina 1.6L 16V 21126-1411020-50 ME17.9.7 0261S05424 B564CA02 TUN firmware:

1) B564CA02 E2-ORI *
2) B564CA02 TUN *
3) B564CA02 E2-TUN *

Firmware in the formats bin and bcf.


** All firmwares are run on many cars and deserve only positive reviews.
*** Within 30 days after purchase. You can order a free adjustment of the firmware for your individual requirements.
No feedback yet