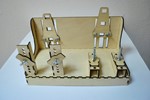 The device allows you to manually grind the nail tweezers and scissors under the exact angle set. As an abrasive, a fine sanding cloth is used, fixed to a metal plate. See the video for the grinding technique. The purchased package includes:
1.Files for laser cutting of all plywood parts in the formats .cdr, .dxf, .plt, .kod (breadboard models)
2. Assembly instruction, including drawings, photographs and a list of necessary fasteners.
Buyers who do not have the opportunity to perform laser cutting themselves can turn to laser cutting companies in their region of residence (ask the search engine for a query "Laser cutting" to find out the addresses and prices) and order cutting from them for the purchased models.
By making one such device on purchased files, you will be able to become, without further investments, a manufacturer and seller of such devices in your region of residence. Just tell about this device in social. Networks, train customers to use it, and accept applications from those who wish to purchase it. Under the accepted orders order cutting the necessary lot, carry out its assembly and sale to your customers.
No feedback yet