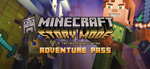 DLC. THE MAIN GAME IS REQUIRED !!!



The Cubic world is already waiting for you!

Before you, another addition, for the favorite game of many Minecraft. Minecraft: Story Mode - Adventure Pass makes available the sixth, seventh and eighth episodes. These new episodes continue the history of the New Order of the Stone. If you decide to buy Minecraft: Story Mode - Adventure Pass, then you have to go on an unforgettable adventure. You will travel through the vast, cubic world, find precious elements and build from them real masterpieces. Of course, on your way there will be enemies and you will have to repulse them. But can you do it? Depends only on you!
04.04.2018 18:07:13
спасибо