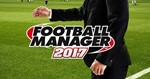 Innovations in the game
In the inbox, the "News Feed" tab appeared, an analogue of the social network. Where there are reports that virtual fans express their opinions about the club and football players.
Improved 3D-engine, the emergence of new viewing angles of the match. Over 1500 improvements make football players smoother and more natural.
The simulation of the so-called "Brekzita" - the UK exit from the European Union. The creators of the game offered their version of the consequences of this phenomenon in the world of football.
Reworked mode Fantasy Draft. In this mode, long matches can be matched [4].
Improving the reporting system for agents and club staff makes administration in Football Manager 2017 easier.
There are two new types of posts - the main scientist, the main analyst, working with scouts.

You get 2 games!
One for the PC, the second for the phone
To activate your retail digital key on Steam, please follow these instructions:

1. Start Steam and log into your account.
2. Enter the Games menu.
3. Select Activate via Steam.
4. Follow the instructions on the screen to complete the activation of the game on Steam.
30.09.2019 15:15:06
Все ОК